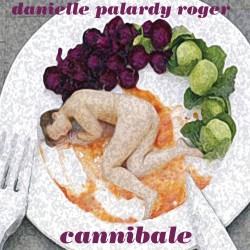 Cannibale
Danielle Palardy Roger
Ambiances Magnétiques AM 241CD (actuellecd.com)
Few compositions can more fully embody the enduring spirit of Québécois musique actuelle – playful, anarchic, witty, frequently barbed – than composer/percussionist Danielle Palardy Roger's Cannibale. The 11-movement work calls on a special kind of musician: here the performers sing as well as play, improvise as well as interpret; four even compose individual movements. Palardy Roger's frequent musical partner Joane Hétu, also a distinguished composer, provides focused dramatic narration as well as voice and alto saxophone.
The work's special character is apparent from the beginning as Hétu intones "cannibale" repeatedly, a prayer, an invocation, a lover's whisper. Each position is explored in depth as the work unfolds, Palardy Roger's sustained text and frame highlighting special episodes. Le sacrifice rituel, composed by percussionist Isaiah Ceccarelli, suggests the symbolic cannibalism of the mass with isolated percussion and Gregorian chant. Electric guitarist André Duchesne contributes the rocking La victoire du guerrier, while Alexandre St-Onge's electronics drive his Sauvage, le côté party de la nécrophilie cannibale. Electronic musician Michel F Côté contributes Le gourmand épicurien, Palardy Roger's ecstatic text animated by the voice, chewing sounds and clarinet of Elizabeth Lima, who elsewhere sounds the elegiac depths of Pitié Navire. At times, the brutalist roar of Ida Toninato's baritone saxophone may represent the title character.
Cannibale is a rich allegory in which genres from hard rock to free jazz to synth-pop and "traditional" electronic music are cannibalized with the same glee that the texts explore the modes of "Cannibale capitale brutal."