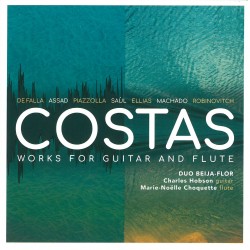 Costas – Works for Guitar and Flute
Duo Beija-Flor
Big Round Records BR8953 (bigroundrecoreds.com)
The days of November are increasingly colder and grayer, so what better way to dispel any pre-winter gloom than a flute and guitar duo performing music with a strong Mediterranean focus. The Montreal-based Duo Beija-Flor – guitarist Charles Hobson and flutist Marie-Noëlle Choquette – began playing together during their student days at Concordia University and officially became a duo in 2010. Since then, they have performed throughout Canada, the United States and Argentina.
This disc, titled Costas – referring to the Latin coastlines of the Atlantic – is a delight, featuring music by such diverse composers as Manuel de Falla, Astor Piazzolla, Celso Machado and Roddy Ellias. What is particularly striking from the very beginning is the wide variety achieved with respect to style, mood and tempo within a thoughtfully chosen program.
De Falla's set of Seven Spanish Folksongs was originally arranged for soprano and piano in 1914 and this transcription is particularly convincing. Less familiar is Celso Machado's languorous Quebra Queixo. Machado, a world music guitarist now based in Vancouver, wrote the piece in homage to a popular Brazilian candy!
Not all works on Costas are by Hispanic composers. Roddy Ellias is a Canadian performer and composer whose piece Havana Street Parade was especially commissioned by the duo. Its quirky and syncopated rhythms are an intriguing blend of jazz and Latin elements, performed with much aplomb.
Throughout the disc, the addition of extraneous effects – percussive tapping on the guitar and the sound of wind created by the flute – further heightens the listening experience. Infectious rhythms, a diverse program and superb playing by both performers make this CD ideal not only for a cool gray day but any time of year – highly recommended.