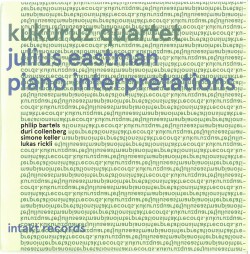 Julius Eastman – Piano Interpretations
Kukuruz Quartet
Intakt Records CD 306/2018 (intaktrec.ch)
In his relatively brief career, Julius Eastman (1940-1990) inhabited a kind of no man's land as an African-American composer/performer in the classical wing of the American avant-garde, an associate of Cage, Feldman and Foss and a practitioner of a minimalism that embraced traditional chordal sequences. His titles were deliberately provocative – for example, Crazy Nigger and Gay Guerrilla – and he endured both drug addiction and homelessness. By the time of his death at 49, his work seemed slated for oblivion, and a rebirth of interest only began around 2010. Here the four pianists of the Kukuruz Quartet (Philip Bartels, Duri Collenberg, Simone Keller and Lukas Rickli) provide interpretations of four of Eastman's compositions, works that possess drama and luminous power, resonating at once with work by Terry Riley and John Coltrane.
While the pieces operate on similar principles, using overlapping repetitions of short cadences, each has its own identity. The opening Fugue No.7 (1983) resembles church bells that echo and decay, building density through repetition and thickening, accumulating dissonances. Evil Nigger (1979) refines and expands elements of African-American church music. Buddha (1983) is a quiet change of pace, an extended foray into delicate textures as the four pianists focus on their instruments' strings. The concluding Gay Guerrilla (1979) begins with repeated single notes, developing force through its half-hour length to its final triumphant, ascending figure.
There's a rare strength to this music, its very methodology assuming a kind of defiance as the work develops its compelling identity.