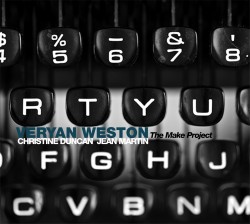 The Make Project
Veryan Weston
Barnyard Records BR0344 (barnyardrecords.com)
The Make Project presents pieces realized in Toronto in 2015 by English pianist-composer Veryan Weston with Christine Duncan, Jean Martin and three ensembles, including Duncan's 45-member Element Choir. The music is a stunning synthesis of two concepts: one is Duncan's conduction method in which the large choir creates spontaneously in response to her hand signals; the second is Weston's Tesselations, works he's been developing since 2000 in which performers move through the 52 possible pentatonic scales, altering one note at a time.
For Tesselations IV, Weston has added 52 corresponding texts, all from women writers and each containing the word "make," which triggers the shift to the next scale. The authors range through the centuries, from Julian of Norwich to Margaret Atwood, and include telling words whether on creativity (Simone de Beauvoir: "On paper, I make time stand still") or politics (Emma Goldman: "If voting changed anything, they'd make it illegal").
The first piece, the four-minute Hidden Meanings, has a nine-voice women's a cappella choir creating luminous layers of words and voices with overlapping texts. The second, Hidden Words, is an eight-minute instrumental improvisation with Weston, producer/drummer Martin and four strings (violinists Josh and Jesse Zubot, violist Anna Atkinson and bassist Andrew Downing) that possesses a spiky, Webern-esque clarity.
Then the forces assemble – the musicians, the Element Choir, solo voices Felicity Williams and Alex Samaras – for the 32-minute Tesselations IV (Make), a work of great depth and scale that moves through various combinations of choir, sextet and soloists with expanding meaning and a series of luminous textures. It's brilliant work that combines genres and techniques to create its own world.