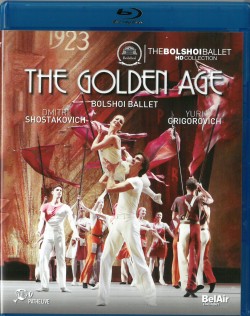 Shostakovich – The Golden Age
Bolshoi Ballet
BelAir BAC443
A friend and I watched this video of, as we used to call it, The Age of Gold, with neither of us knowing the story nor what they were dancing about. Nevertheless, it was so brilliant that we watched it with delight for quite some time, simply revelling in the joyous and boisterous music while captivated by the goings-on onstage.
Shostakovich had a gift for musical satire, as his opera The Nose exemplifies. This story plays out on the floor of the Golden Age, a restaurant in the south of Russia and a favorite haunt of petty criminals in the 1920s. Interlaced with a floor show in progress at the restaurant, a young girl, Rita, now known as Mademoiselle Margot, is desired both by Boris, a young fisherman and aspiring actor and Jacques, Rita's dance partner, in reality Yashka, the leader of a local gang of bandits. Inevitably, as in any good melodrama, eventually someone is stabbed to death. The librettist and choreographer is the legendary Yuri Grigorovich, well known and adored in ballet circles. Thanks to Shostakovich and Grigorovich the action is vibrant and non-stop. There are a few familiar tunes, including the Polka and Tea for Two. For those in the know, the principal dancers are Nina Kaptsova (Rita), Ruslan Skvortsov (Boris), Mikhail Lobukhin (Yashka), Ekaterina Krysanova (Lyuska, Yashka's accomplice) and Vyacheslav Lopatin (variety show compere at the Golden Age). The high-definition video is, as expected, breathtakingly real, as is the usual astonishing virtuosity of the Bolshoi orchestra as heard in earlier releases. For fans of Shostakovich and/or Grigorovich this is a self-recommending must-have.
As we are getting to that time of year, here are two apropos serious gift suggestions: The Great Bolshoi Ballets: four Blu-ray discs in one package – Nutcracker, Sleeping Beauty, Giselle and The Flames of Paris (BelAir BAC610), breathtaking in every respect; and Shostakovich: The Complete Symphonies & Concertos with Valery Gergiev and the Orchestra and Chorus of the Mariinsky Theatre & six soloists (Arthaus Musik 107552, four Blu-ray discs plus hardbound book). These are definitive live performances recorded over the span of a year in the Salle Pleyel in Paris. Unique.