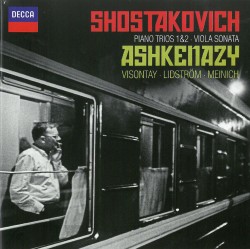 Shostakovich – Piano Trios 1 & 2; Viola Sonata
Ashkenazy; Viontay; Lidstrom; Meinich
Decca 478 9382
The three chamber music works featured on this recording were written during three distinct stages in Shostakovich's life (1923, 1943, 1975), showing the development of what was to become his unmistakably unique musical expression. Shostakovich wrote Piano Trio No.1 at the tender age of 17 and dedicated it to the girl he was in love with. Already in place are the typical Shostakovich elements that became more pronounced in the Piano Trio No.2 – singing melodies, textural use of string pizzicatos, percussive piano, chromatic scales and a hint of the grotesque. The second trio was dedicated to Ivan Ivanovich Sollertinsky, Shostakovich's greatest friend who had died suddenly shortly before. The opening theme is ethereal, muted and lonesome. Nestled in between two lively, swaying and occasionally dense movements is Largo – a sorrowful ode, a yearning lament in the face of inevitability.
The Viola Sonata was written in the last few weeks of Shostakovich's life. It is quite different from his previous works – sparse, with subdued yet powerful colours, 12-tone scales and musical quotations, most notably from Beethoven and Shostakovich himself, sombre throughout.
The intensity of Shostakovich's music is matched by the captivatingly intense performances of these extraordinary musicians – Vladimir Ashkenazy (piano), Zsolt-Tihamér Visontay (violin), Mats Lidström (cello) and Ada Meinich (viola). Here we hear it all – the pain, turmoil, despondency, soaring, playfulness, raggedness, tenderness and radiance. These musicians bring out every colour, every nuance, every motif with astounding conviction and utmost respect for the great composer.