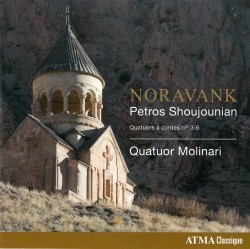 Noravank: Petros Shoujounian – String Quartets 3-6
Quatuor Molinari
ATMA ACD2 2737
Composed to mark the centenary of the Armenian genocide, Noravank's title is derived from a homeland monastery that was Petros Shoujounian's inspiration. Its 14 sections, divided into string quartets of three, three, three and five movements, are symbolically named after rivers and are based on liturgical chants.
Quartet No.3 was the most affecting for me, through its tiny echoes of melodies and treatments heard in Morricone's Gabriel's Oboe and Pärt's Spiegel im Spiegel; it concludes with the provocative Dzoraget. The contradictions of Quartet No.4's depressive second movement, the energetic third and Quartet No.5's lamentoso first movement brought to mind the power of nature and the current plight of evacuated Fort McMurray folks – if that's not the musical equivalent of theological proof-texting. The balance of Quartet No.5 and all of No.6 more overtly reflect the influence of eastern folk songs, both in the keys and the lilts they comprise. Another memory of song, from Chopin's "Raindrop" Prelude in D-Flat Major No.15 Op.28, is heard in the onomatopoeic burbling waters of the Vedi.
This CD was suggested to me, a Pärt fanatic, as a possibly similarly contemplative recording. While these aren't tracks for mindful meditation, there is an introspective quality to all the movements. Maybe the invoked theme of migration is apt, after all: fires, oppression, the liturgical life – these all involve movement and change. But this introvert was soothed rather than discomfited via the talent of the Quatuor Molinari, who commissioned this work that is ultimately about renewal. Fine liner-note editing and the eponymous cover photograph round out a very marketable product.