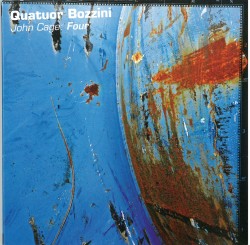 John Cage: Four
Quatuor Bozzini
Quatuor Bozzini CQB1414 (actuellecd.com)
Montreal's Quatuor Bozzini has been together for 16 years and has recorded 15 CDs of the kind of challenging contemporary music that they specialize in, including works by Canadians Malcolm Goldstein, Tim Brady and Jean Derome and international figures like Steve Reich and James Tenney. The experience tells as they take on John Cage's three works for string quartet, realizing distinctive versions in the process.
The earliest of the compositions, String Quartet in Four Parts (1949-50), is a work descriptive of the four seasons with the composer's notes encouraging light string contact and no vibrato. The work's structure and minimal harmonies create an unlikely resemblance to the melodic purity of medieval music. Leaping ahead to 1983, Thirty Pieces for String Quartet presents the musicians with both demands and choices: each piece lasts about a minute, with each musician given a sequence of notes to be fitted into the "time bracket." The musicians individually choose between microtonal, tonal and chromatic options, but the parts are not directly related to one another except for the coordination of segment lengths. The music that emerges within these configurations is rich in complexity and convergence, a kind of collaboration between composer, performer and listener.
The final work, Four, from 1989, is the most radically reductive of these works, still employing time brackets but offering choices from its sparse materials to all the performers. The result is spacious but continuous with tonal structures that may gently evolve or appear transient. The cumulative work is a serene landscape in which mysterious elements emerge and disappear.
Quatuor Bozzini assumes the substantial demand that this music makes on its performers: to at once realize the work in shaping its form while allowing the components to maintain their distinct, non-structural identities. If the Arditti Quartet's recordings of these works (on Muse from the early 1990s) have long stood as masterful readings (they worked closely with Cage on Four), Quatuor Bozzini does a fine job of traversing this music, inevitably creating new works in the process.