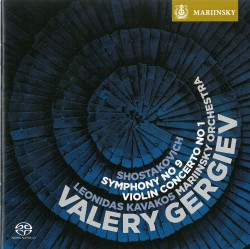 Shostakovich – Symphony No.9; Violin Concerto
Leonidas Kavakos; Mariinsky Orchestra; Valery Gergiev
Mariinsky MAR0524
Symphony No.9 in E-Flat Major Op.70 is a lively, mocking, inspiring, bouncy, sarcastic picture of human nature. Originally imagined as a monumental work, with chorus and soloists – the ode to the victorious ending of the brutal war – it eventually emerged as a 22-minute-long creation that was lighthearted, humorous and transparent. Shostakovich himself said: "It is a merry little piece. Musicians will love to play it, and critics will delight in blasting it." He was right, indeed. The work had a disappointing effect on the general public, and was quickly banned by the Soviet regime. However, amidst the parades and humour, this symphony is illuminated by deeply felt moments of human suffering in the slower movements and features the most heartbreaking bassoon solo in the fourth movement. The Mariinsky Orchestra, under the baton of maestro Valery Gergiev, displays a wonderful uniformity of sound and phrasing. Their interpretation of this work is both exciting and reassuring.
The Ninth Symphony is coupled here with the dark and reflective Violin Concerto No.1, arguably one of the best violin concertos ever written. It opens with Nocturne, essentially a long violin narrative. Dance-like elements become more devilish toward the end of the Scherzo, increasing the virtuosity in the violin lines. The central movement, Passacaglia, brings a sense of inevitability that culminates in the cadenza, which starts as a beautiful lament but changes into a furious display of emotions. The soloist, Leonidas Kavakos, while superb throughout, truly shines in this movement – his expression is raw, vulnerable yet powerful, revelatory in nature, bewitching to the listener. Burlesque, the last movement, has an eerie combination of spookiness and light, ending in swirls of melodies and rhythms, like a shamanic dance.
The outstanding acoustic qualities of the Mariinsky Theatre (where this album was recorded) makes this disc even more enjoyable.