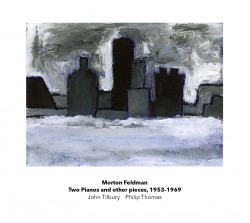 Morton Feldman: Two Pianos and other pieces 1953-1969
John Tilbury; Philip Thomas
Another Timbre at81x2
(anothertimbre.com)
Along with John Cage and Christian Wolff, Morton Feldman was a key figure in the mid-century development of indeterminacy as a component in composition, creating works that emerge anew in each performance. This 2CD set focuses on a crucial period in his development and includes pieces for two pianos as well as pieces for three and four pianos and piano in various small ensembles. While the earliest, Intermission 6 (1953), presents the performers with various bits of notation and the direction to play in any order, the other pieces employ sequential notation that plays with time, whether using notes without rhythmic values or instructing musicians to sound a note when the decay of the previous one has begun.
In his extensive notes (available through anothertimbre.com), Philip Thomas emphasizes Feldman's preoccupations with sound and time: they're key to the way this special world ultimately involves us. While these works are designed to develop great structural complexity, the focus on sounds and their incremental evolution draws us ever further into the instant of the work's coming into being, its evolving architecture stretching to erase its own boundaries. These works lead directly to Feldman's later massive essays in time without being overshadowed by them.
Here John Tilbury and Philip Thomas bracket their program with two performances of Two Pianos (1957), each subtly distinct from the other. The complexity expands on the later Two Pieces for Three Pianos (1966) and the ensemble piece, False Relationships and the Extended Ending (1968). Tilbury may be Feldman's most incisive interpreter (he first performed one of his works in 1960); his collaborators here share his attention to sonic nuance.