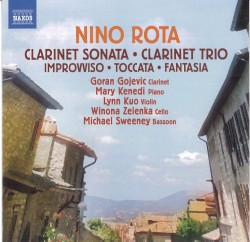 Rota - Clarinet Sonata; Clarinet Trio
Goran Gojevic; Mary Kenedi; Lynn Kuo; Winona Zelenka; Michael Sweeney
Naxos 8.572778

The name Nino Rota may not be all that familiar, but if you've ever seen The Godfather or heard the famous love theme from the 1968 film Romeo and Juliet, you've heard his music.

Born in Milan, Rota studied composition with Pizzetti and later at the Curtis Institute in Philadelphia. Although he is chiefly known today for his film scores, his output also includes a large number of chamber and orchestral works, all of it written in a contemporary but thoroughly accessible style. And what better way to sample some of his non-commercial output than through this fine Naxos recording with music performed by some of Toronto's top musicians? Among the pieces presented here are the Clarinet Sonata, the Clarinet Trio, Improvviso, Toccata for Bassoon and Piano and the Fantasia for Piano, admirably performed by Goran Gojevic, clarinet, Mary Kenedi, piano, Lynn Kuo, violin, Winona Zelenka, cello, and Michael Sweeney, bassoon.

This is a charming disc, its appeal not only in the high level of performance, but in the inherent contrasts found within the music. The Trio for Clarinet, Cello and Piano from 1973 is pure cheekiness, with two playful outer movements surrounding a languorous andante. In contrast, the lyrical Clarinet Sonata, written 18 years earlier, clearly looks back to the 19th century with its expansive melodies and mood of introspection. Gojevic's warm tone and Kenedi's solid command of the score result in a fine performance. Equally romantic is the Fantasia for Piano, also from 1945. A recent discovery, this piece seems to draw from numerous sources, but few of them from the 20th century – do I detect a snippet of Schubert at times? A touch of French impressionism?

This collection is a most welcome addition to the catalogue, and ample proof that there is much more to Nino Rota than what we've heard on the big screen during the last 45 years. Bravo to all performers involved for some fine music making.