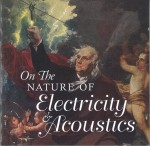 On the Nature of Electricity & Acoustics
Electro-Acoustic Music from Ireland
Curated by Daniel Figgis
Heresy 010
www.heresyrecords.com
Imagine the sound of a traditional Irish jig or reel in the hands of someone who loves playing with electronic instruments and recording devices. Think of all the possible combinations that could arise. That's exactly what you will hear on the CD On the Nature of Electricity & Acoustics. Curated by Daniel Figgis, this album is a compilation and sampling of 23 pieces, each created by a different Irish composer or musician. And to add to the mix, these musicians come from a wide range of backgrounds and influences: contemporary classical composers, rock musicians, sound experimentalists, traditional music virtuosi and visual artists. The fascinating images in the accompanying booklet offer glimpses into early instruments — both acoustic and electric in nature.
Over the last three or four decades, traditional Irish music influences have swept across the globe, bringing their unique identity to the pop, rock and world music genres. With this album we are treated to the inimitable Irish sound under the influence of experimentation and boundary pushing. It opens with a very early electroacoustic work, created in 1978 using classic tape techniques, by one of the country's leading composers, Roger Doyle. We immediately land in the familiar soundworld of the piano presented with a driving rhythmic force so characteristic of the Irish essence. These strong rhythmic qualities, along with looping and repetitive melodic or harmonic patterns, textural layering and the presence of a recognizable instrument are present in almost every work on the album. The distinctive instrumental sounds heard include the fiddle, bagpipes, bodhrán, accordion, electric guitar, cello, as well as a few flashes of a Celtic vocal presence. Electronic sounds include the presence of lush synthesizer textures, wild electric guitar riffs, static and noise articulations and gliding filter sweeps.
The final track by the curator Daniel Figgis really sums up the spirit of the whole album. If I were to lift a pint of beer to my mouth and close my eyes, I could easily imagine I was sitting in a traditional Irish pub, tapping my toes in time with the music. Yet my ears would be overjoyed to hear the unusual and mind-bending twists and turns that unfolded before me. There would be no denying that I was in the presence of an ancient musical tradition whose indelible spirit penetrates through time, technologies and trends.