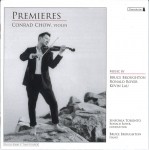 Premieres: Music by Bruce Broughton, Ronald Royer and Kevin Lau
Conrad Chow; Sinfonia Toronto;
Ronald Royer; Bruce Boughton
Cambria Master RecordingsCD-1204
www.cambriamus.com
The concept of this project is new works that are inspired by earlier musical styles. Bruce Broughton's Triptych: Three Incongruities for violin and chamber orchestra (in this case 15 solo instruments) is essentially a type of concerto, with each movement written in a different style. Thus, we hear influences of J.S. Bach's violin music in the first movement, Prokofiev and more romantic expressions in the second and rhythmic, dance-like elements of Scottish fiddle music in the third. Another composition by Broughton, Gold Rush Songs, is based on three American songs associated with the California Gold Rush.
Ronald Royer's Rhapsody displays influences of French impressionism and Spanish violin music, among others, with mysterious elements in the first movement and more rhythmic expressions in the second. Royer's In Memoriam J.S. Bach is based on different motifs from Bach's works. Sarabande is expressive, even romantic at times, while Capriccio carries playfulness coupled with recognizable Bach rhythms.
Joy for solo violin and string orchestra by Kevin Lau is a lyrical, meditative piece that lets the soloist explore different colours and textures. Conrad Chow's tone has a wonderful quality of sweetness, which is most prominent in Chopin's Nocturne in C-Sharp Minor, No.20 Op. posth., the encore piece on the album. His playing is rhythmical and precise, and he easily traverses the variety and depth of expression in each piece.
Some may argue that contemporary classical music should be forward-looking and not an evocation of the styles and musical tastes of the past. This, however, should not limit the scope of creativity and inspiration, which can spring from all objects and times. If your musical tastes enjoy revisiting compositional styles of the previous centuries while using contemporary expressions and techniques, this recording is a wonderful opportunity to hear Toronto composers in collaboration with Toronto musicians.