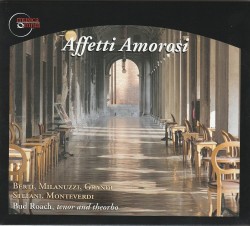 Affetti Amorosi
Bud Roach
Musica Omnia MO0805 (budroach.com)
Listen
01 Amante felice (Giovanni Stefani, fl. 1618-1626), Bud Roach, tenor and theorbo
02 Si dolce e'l tormento (Claudio Monteverdi 1567-1643), Bud Roach, tenor and theorbo
03 Non voglio amare (Giovanni Berti, 1590-1638), Bud Roach, tenor and baroque guitar.
Read the Review
Whether known as a troubadour or a singer-songwriter, the concept of a solo singer providing their own accompaniment has been around for centuries, and tenor Bud Roach delves into 17th-century Italian "singer-songwriter" music with Affetti Amorosi, in which he accompanies himself on the theorbo. Performing music by seven composers, ranging from the well-known Claudio Monteverdi to the lesser-known Berti and Milanuzzi, this disc explores a range of solo vocal repertoire that demonstrates the lyrical beauty and musical inventiveness of the time.
Perhaps the most interesting facet of this repertoire is the variety of interpretive choices presented to the performer. Reconciling the lost oral traditions and conventions of the 17th century with the notated score is an objectively impossible task for modern performers, and a high degree of informed subjectivity is required of the contemporary interpreter. Even with current scholarship and research, the quest for an "authentic reproduction" remains an unattainable oxymoron.
The benefit of this historical ambiguity is that the listener gains greater insight into the uniqueness of an individual performer's interpretations – no two recordings are alike. Roach's approach is sustained and lyrical and utilizes both the modality of the music and the drama of the texts to great effect. By accompanying himself, Roach maximizes the potential for rhetorical invention and provides a convincing suggestion of how this music might have sounded on the streets of Venice almost 500 years ago.