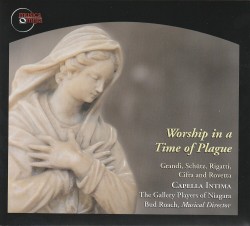 Worship in a Time of Plague
Capella Intima; Gallery Players of Niagara; Bud Roach
Musica Omnia MO0804 (budroach.com)
Listen
O quam tu pulchra es, SWV 265 (Heinrich Schutz); Bud Roach, tenor; David Roth, baritone; Capella Intima and the Gallery Players of Niagara
Paratum cor meum SWV 257 (Heinrich Schutz) Sheila Dietrich, soprano; Capella Intima and the Gallery Players of Niagara.
Credidi, propter quod locutus sum (Giovanni Antonio Rigatti); Capella Intima and the Gallery Players of Niagara.
Read the Review
In 1629, Heinrich Schütz published his Symphoniae Sacrae, a collection of vocal sacred music based on Latin texts. Influenced by his exposure to the Venetian school, Schütz set psalms and excerpts from the Song of Solomon for one to three voices, with various instruments and continuo. After a period of great productivity in Italy, Schütz returned to Dresden just before the plague outbreak which would kill one third of the population.
Capella Intima's Worship in a Time of Plague places its focus on Venice in 1629, highlighting a selection of music which Schütz would likely have heard, as well as several of Schütz's own works. These were effectively some of the last scores published and disseminated before the plague led to the collapse of the music publishing industry, church choirs and the opportunity for large-scale musical performances, and they undoubtedly attained even greater meaning as the opportunities for producing and publishing new music were swiftly curtailed.
Despite the dreary temporal background of these works, each of them, from Grandi's florid O beate Benedicte to Schütz's sublime Paratum cor meum is a vibrant essay in the art of 17th-century composition that radiates both contrapuntal mastery and expressive piety. Capella Intima and the Gallery Players of Niagara under Bud Roach's direction give a wonderful performance, unearthing the subtleties of the scores and ensuring that both tuning and text are executed with precision. This is a magnificent recording for all to gain an understanding of Italian vocal music of the period, especially for those who appreciate the choral music of Heinrich Schütz.