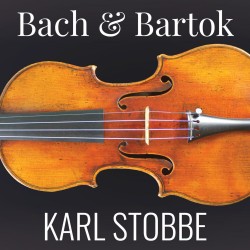 Bach & Bartók
Karl Stobbe
Leaf Music (karlstobbe.com)
Listen
Sonata No. 3 in C Major for Solo Violin BWV 1005 III. Largo
Sonata No. 3 in C Major for Solo Violin BWV 1005 IV. Allegro Assai
Sonata for Solo Violin Sz. 117 II. Fuga
Read the Review
Canadian violinist Karl Stobbe recently created a series of online concerts featuring video recordings of solo violin repertoire, including all six of the Bach Sonatas & Partitas. These recordings are now being turned into a series of albums, with Bach & Bartók the opening volume (karlstobbe.com).
Stobbe pairs Bach's Sonata No.3 in C Major BWV1005 with the Bartók Sonata for Solo Violin for historical as well as musical reasons: Bartók heard Yehudi Menuhin play the Bach in early 1944 when he was working on his own sonata, commissioned by Menuhin after their late-1943 meeting. Stobbe senses a connection, feeling that the Bach C Major is the only one of the Bach works that has a similar musical journey to the Bartók – from darkness to light, through uncertainty and wandering harmonies to an expression of celebration and joy.
Stobbe has a big, rich sound, and the strength to navigate the fiendishly difficult Fuga in the Bach as well as the technical challenges in the Bartók. It promises to be a fascinating series.