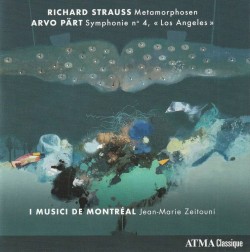 Richard Strauss – Metamorphosen; Arvo Pärt – Symphony No.4 "Los Angeles"
I Musici de Montréal; Jean-Marie Zeitouni
ATMA ACD2 2813 (atmaclassique.com/en)
Listen
Métamorphoses : Étude pour 23 instruments à cordes
Symphonie no 4, « Los Angeles » : III. Insistentemente – Con intimo sentimento
Read the Review
What constitutes interpretation? Certainly every artist or orchestral ensemble worth its name seeks to internalize the message of the music they choose to perform in the hopes of sharing a unique perspective with the audience. In the very best cases, that perspective is highly individual, shaped by training, culture, intelligence, imagination, curiosity and countless other factors. The best music invites a variety of approaches and our source of continuing fascination with the Western canon is the constant artistic revivification of its musical literature.
I Musici de Montréal's revisiting of Richard Strauss' Metamorphosen and Arvo Pärt's Symphonie No.4 "Los Angeles" is a breathtaking reminder that personal interpretation can lie just off the beaten track – s0 as to make your experience of it utterly breathtaking.
The sense of foreboding in Metamorphosen is not simply complete and ink-black but inhabits the gloom of post-war Germany with enormous tonal power, conjuring the visual skyline of shattered cathedrals and priceless bombed Gothic structures, open to the sky, roads filled with the debris of war, with desultory, homeless survivors scavenging for a living. It is a show-stopping performance.
The poetic sentiments of Pärt's Symphonie No.4 are no less weighty in tone textures, albeit far less grim. The three-movement work is based on the prayer to the Guardian Angel, taken from the Slavonic Orthodox Canon. Jean-Marie Zeitouni leads the ensemble in a monumental, sacred essence of the work in haunting, spectral and evocative terms.