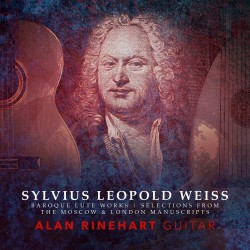 Sylvius Leopold Weiss Baroque Lute Works
Alan Rinehart
Ravello Records RR8056 (ravellorecords.com/catalog/rr8056)
Read the Review
On Sylvius Leopold Weiss Baroque Lute Works the Canadian guitarist Alan Rinehart plays selections from the Moscow and London manuscripts, transcribed by him from original tablature for 11 or 13 course lute (Ravello Records RR8056 ravellorecords.com/catalog/rr8056).
Rinehart feels that Weiss' lute music was overshadowed by keyboard music, especially that of his direct contemporary J.S. Bach, and consequently under appreciated, and the recital here certainly supports that view. The three major works, all with five to seven dance movements, are the Partita in A Minor, the Partita in G Major and the Suite in D Major. An Allegro in E Minor, a Fantasia, the Tombeau sur la mort de M'Comte de Logy, a Gallanterie and a Minuet & Trio complete the disc.
"Travelling bass lines, intricate melodies, and pleasant harmony," say the booklet notes. Add clean, stylish playing and you have a top-level CD.