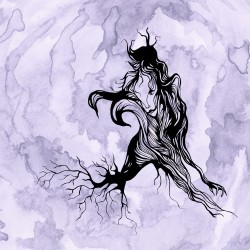 Dressed in Borrowed Light
Clara Engel
Independent (claraengel.bandcamp.com)
Read the Review
Songwriter Clara Engel has been busy during the pandemic, completing two collections of songs entirely self-produced while at home, based on lyrics that read like extended poetry and dressed in an album cover featuring Engel's original artwork.
In Dressed In Borrowed Light, dark, evocative themes of cycles of life, loss and nature float atop rhythmic drone-like melodies that leave plenty of room for the poetry to come through. This is a performance much like one might find at a poetry reading or meditative retreat, and a collection of guests adds an assortment of instrumental sounds that provide some additional ethereal qualities, bringing to the album a meditative, folk-like feel.
Musical arrangements include Engel on vocals and a collection of instruments such as shruti box, gusli, lap steel and morin khuur (Mongolian horse-head fiddle), which delicately add colour to the songs.
A shorter album than some, it's six tracks flow gently as a collection of spoken word set to music. From one poem to the next it makes a soft landing, belying some of the darker themes of the lyrics.