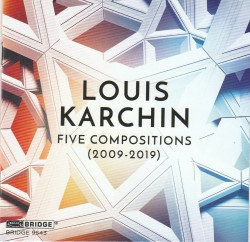 Louis Karchin – Five Compositions (2009-2019)
Various Artists
Bridge Records 9543 (bridgerecords.com)
Listen
Chamber Symphony - Movement 1
Chamber Symphony - Movement 2
Chamber Symphony - Movement 3
Read the Review
American composer/conductor/professor Louis Karchin has composed for such musical genres as orchestra, chamber music, vocal and opera. Here, five contrasting instrumental works written from 2009 to 2019 are performed.
Karchin conducts The Washington Square Ensemble in his three-movement Chamber Symphony (2009). He writes he was able to explore a range of colours and fluidity in this group of "approximately one of each instrument." Sparkling opening arpeggiated tonal flourishes and tempo and instrumental contrasts lead to a march-like section with intermittent horn lines building tension. The slower second movement, scored for smaller ensemble, has calming tonally diverse pitches and piano-pedalled note vibrations. Karchin's accurately self-described "rambunctious" third movement is in modified rondo form with energetic instrumental chordal interplays, flourishes and dramatic low-pitch held notes.
Rochester Celebration (2017) is a solo piano commission celebrating Karchin's undergraduate Eastman piano professor, Barry Synder. A "must listen to" virtuosic Romantic-feel composition for all pianists, as Karchin's thorough piano high/low pitch sounds and effects knowledge are captured in Margaret Kampmeier's exquisite performance.
Postlude (2019) has Sam Jones on trumpet with bucket mute play beautiful slower melodic lines with resonating high-pitch held notes to pianist Han Chen's accompaniment. Love Alice Teyssier's flute trills emulating Ashley Jackson's harp rolls in Quest (2014). Violinist Renée Jolles and harpist Susan Jolles drive the exciting closing track Barcarole Variations (2015) forward with their sensitive instrumental effects.
Louis Karchin is a fabulous contemporary composer with thorough instrumental knowledge.