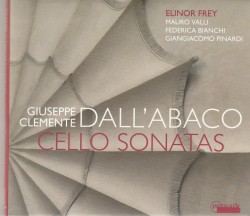 Dall'Abaco Cello Sonatas
Elinor Frey
Passacaille 1069 (passacaille.be)
Read the Review
Cellist-composer Giuseppe Clemente Dall'Abaco (1710-1805) was esteemed throughout the major European musical centres, but while his unaccompanied 11 Caprices have been published his 35 accompanied sonatas remain virtually unknown. Five of them – the Sonatas in A Major ABV30, C Minor ABV32, D Minor ABV35, VII in C Major ABV18 and VIII in G Major ABV19, the latter usually incorrectly attributed to Sammartini – are featured on Dall'Abaco Cello Sonatas, a delightful CD from the Montreal-based cellist Elinor Frey, accompanied by Mauro Valli (cello), Federica Bianchi (harpsichord) and Giangiacomo Pinardi (archlute) (Passacaille 1069 passacaille.be).
The music is Italianate and full of sunlight and brilliance. In her excellent and extensive booklet notes, Frey comments on Dall'Abaco's experimenting with newly fashionable qualities that we now associate with galant or pre-classical music, and on the many characteristics which we identify with better-known cello music from later decades by the likes of Boccherini or Haydn.
It is indeed cello music that "remains fresh, audacious, alluring and often utterly beautiful," and is a significant contribution to the early cello repertoire. Frey's critical edition of the complete 35 cello sonatas of Dall'Abaco is due to be published by Edition Walhall this year.