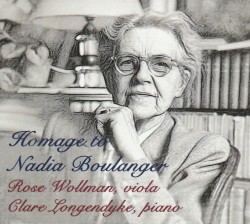 Homage to Nadia Boulanger
Rose Wollman & Clare Longendyke
rosewollman.com
Listen
Astor Piazzolla: Le Grand Tango
Nadia Boulanger: Trois Pieces for violoncelle et piano (arr. Wollman): III. Vite et nerveusement rythme
Gabriela Lena Frank: Cinco Danzas de Chambi: V. Harawi de Chambi
Read the Review
The following review is an excerpt from Editor's Corner (March 2020) which can be read in its entirety here.
I have WholeNote alumna Simone Desilets to thank for bringing the next disc to my attention. Pianist Clare Longendyke was the recipient of the George Brough Memorial Endowment scholarship at the Banff Centre for Arts and Creativity in 2017 and the following year Desilets invited her to Toronto to participate in celebrations to mark Brough's centennial. Together with recital partner violist Rose Wollman, Longendyke recently released Homage to Nadia Boulanger (rosewollman.com) featuring works by the iconoclastic teacher and her lineage on the occasion of the 40th anniversary of her death. Boulanger (1887-1979) mentored many of the leading composers and musicians of the 20th century, among them such notable Canadians as Gabriel Cusson, Jean Papineau-Couture, István Anhalt, Maurice Blackburn, Gabriel Charpentier, Pierre Mercure, John Beckwith, Sterling Beckwith, Roger Matton, Walter Buczynski and Arthur Ozolins, to name a few of the more than 60.
This Homage begins with Le Grand Tango by Astor Piazzolla, who studied with Boulanger in his 30s when he was already an established tango artist. Wollman says the duo worked extensively with tango experts to ensure an authentic performance of this idiomatic work and that she is currently preparing a transcription of their approach into an "edition that will help classically trained musicians perform this piece stylistically." The disc continues with Boulanger's own Trois pieces pour violoncelle et piano in Wollman's arrangement for viola. Two gentle movements of great beauty are followed by a driving finale reminiscent to my ears of Prokofiev, described as vite et nerveusement rythmé.
The project claims to include Boulanger and her students and "great grandstudents." I wondered what this latter term meant and was told that the youngest of the composers included – Gabriela Lena Frank (b.1972) – studied with William Albright and Samuel Jones who studied with Ross Lee Finney and Bernard Rogers respectively, who in turn were themselves students of Boulanger. A bona fide lineage indeed. Frank's contribution is a lilting and mostly lively dance suite titled Cinco Danzas de Chambi (2006), inspired by the work of Peruvian Martín Chambi (1891-1973), the first Amerindian photographer to achieve international acclaim. The suite ends hauntingly with the mournful Harawi de Chambi.
The most substantial work presented here is also the last on the disc. Emile Naoumoff is a French pianist and composer who was born in Bulgaria in 1962. Wikipedia tells me that "At the age of eight, after a fateful meeting in Paris, he became the last disciple of Nadia Boulanger, who referred to him as 'the gift of my old age'. He studied with her until her death in late 1979." The Sonata for Viola and Piano dates from 2001 and was revised eight years later. It is in one extended movement, beginning darkly but gradually moving toward the light. A pizzicato theme passed back and forth between the instruments introduces a lyrical section before the piece gradually returns to quiet calmness. The Wollman-Longendyke duo worked extensively with Naoumoff in preparation for this recording, about which he has said, "Wonderful playing and captivatingly generous narrative sound quality! Thank you for playing my sonata with such solar depth!" No argument from me – I expect the other composers would (have) agree(d).