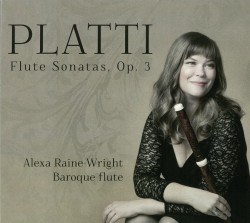 Platti – Flute Sonatas, Op.3
Alexa Raine-Wright
Leaf Music LM224 (leaf-music.ca)
Listen
Sonata No. 3 in E Minor, I. Allegro mà non molto
Sonata No. 3 in E Minor, II. Larghetto
Sonata No. 3 in E Minor, III. Minuet - Trio alternat: Amaroso
Read the Review
There are five outstanding musicians whose contributions to this wonderful recording all deserve recognition. First and foremost, of course, is the Baroque/rococo composer, Giovanni Benedetto Platti (1697-1763), whose six Opus 3 flute sonatas have not, until recently at least, been part of the standard flute repertoire, unlike those by some of his better-known contemporaries. The obscurity of these works, as this recording demonstrates, is due not to any defects but rather to the unavailability of the printed music. The fecundity of Platti's musical imagination, from joie de vivre to pathos to artfully crafted lyricism is evident throughout the CD.
Then there is, of course, the soloist, Baroque flutist Alexa Raine-Wright, whose playing is full of vivacity, exquisite phrasing, breathtaking virtuosity, definite and confident articulation and all-round sensitivity to the voice of the composer. You know from the first seconds of track one that her first priorities are to be musical, that is, to play the phrases, the musical sentences, so that their meaning can be heard, and to be more than just a soloist but also part of the ensemble.
Her team (Camille Paquette-Roy, Baroque cello, Rona Nadler, harpsichord, Sylvain Bergeron, archlute and Baroque guitar) are worthy collaborators, who, while always keeping a rock-solid steady tempo, seem also able to allow space for rhapsodic freedom to the flute. Worth mentioning too are the several truly exquisite duo moments for flute and cello, as in the first movement of Sonata 4 and the second movement of Sonata 5.
Bravissimi to our musical colleagues in Montreal.