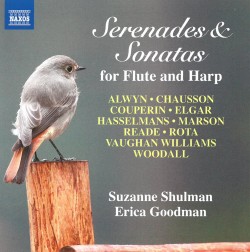 Serenades & Sonatas for Flute and Harp
Suzanne Shulman; Erica Goodman
Naxos 8.573947 (naxosdirect.com/items/serenades-sonatas-for-flute-and-harp-466995)
Listen
François Couperin Le Rossignol Vainqueur
William Alwyn Naiades Fantasy-Sonata for Flute and Harp
Nino Rota Allegro festoso (third movement) from Sonata for Flute and Harp
Read the Review
Flutist Suzanne Shulman and harpist Erica Goodman are popular, brilliant and esteemed Canadian performers who, when asked to participate in a summer festival concert of music for an English garden, gathered pieces evoking an outdoor setting. Here they perform a selection of these compositions/arrangements with stellar ensemble and musical skills.
A single standing bird on the CD booklet cover sets the visual stage for joyous flute and harp garden sounds. The catchy opening of Vaughan Williams' Fantasia on Greensleeves (arranged by Jennifer Grady) leads to the familiar melody on flute with harp accompaniment at a faster tempo than some may expect. A key change leads to a middle section based on the folk tune Lovely, and then back to the closing sensitive, musical lead section. Love the opening Prelude's florid singing birdlike flute lines, and the lush Mists' slow-moving flute and harp trills/flourishes in Paul Reade's five-movement Victorian Kitchen Garden Suite. Alphonse Hasselmans' technically challenging harp solo La Source, Op.44 features an arpeggiated harp part reminiscent of rushing stream water played with subtle tone choices. William Alwyn's virtuosic Naiades – Fantasy-Sonata for Flute and Harp encompasses arpeggios, staccato jumps and florid runs, like running water and dancing nymphs, to trills and high-pitched garden-like sounds. Works by Couperin, Woodall, Marson, Chausson, Rota and Elgar complete the collection.
Listening to this luscious musical garden tended by two breathtaking musicians should help make waiting for springtime easier!