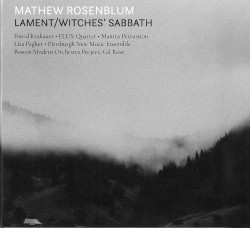 Lament/Witches' Sabbath
Mathew Rosenblum
New Focus Recordings FCR219 (newfocusrecordings.com)
Listen
Lament/Witches' Sabbath (excerpts)
Falling, movement 4
Last Round (Ostatnia Runda), (excerpt)
Read the Review
The following review is an excerpt from Editor's Corner (December 2018 / January 2019) which can be read in its entirety here.
At any rate, this month's column is all about connections which might be construed as coincidences. The first relates directly to November's column when I wrote about Wlad Marhulets' Concerto for Klezmer Clarinet. Until that time I had not heard of the dedicatee David Krakauer, despite his prominence in both the worlds of klezmer and classical music. My ears pricked up immediately when I received another disc this month which features him: Mathew Rosenblum – Lament/Witches' Sabbath (New Focus Recordings FCR219 newfocusrecordings.com). Rosenblum is an American composer (b.1954) of Ukrainian heritage, and the title track is an in-depth exploration of his roots. The composer says the work "involves the rewriting of my personal and family history through instrumental sound (klezmer-tinged clarinet with orchestra) and the sound and texture of the voice (field recordings of Ukrainian laments; sung and spoken Ukrainian, Russian and Yiddish text by my grandmother). It is also about reconnecting with my high school friend and dear colleague, the amazing clarinetist/composer David Krakauer, for whom the piece was written. […] It is a tribute to my grandmother, Bella Liss." He goes on to mention that it is loosely based on the last movement of Berlioz's Symphony Fantastique and also references his grandmother's superstitious sensibility, which he says is grounded in Eastern European Jewish culture. It is a particularly moving work, with the haunting Ukrainian laments as prominent as the solo clarinet, soaring above the orchestral textures provided by the Boston Modern Orchestra Project under the direction of Gil Rose.
It seems I can't write this column without some mention of my day job at New Music Concerts. It was there that I was first exposed to the characteristic keening of Ukrainian lamentation when young Ukrainian-Canadian composer Anna Pidgorna wrote Weeping for our 2015 Ukrainian-Canadian Connection concert. For this piece the members of a sextet were provided recordings of traditional laments in order to better understand how to approach their instrumental parts, which were based on that tradition. This initial exposure made the laments included in Rosenblum's work hauntingly familiar.
I feel obliged to mention another coincidence related to my appreciation of Rosenblum's disc. The second work is called Northern Flicker, which is something I had not remembered when I wrote my introduction. The world works in mysterious ways indeed. Northern Flicker is for a solo percussionist who mimics and extrapolates on the distinctive sounds of this woodpecker in the wild. Lisa Pegher holds our attention throughout the witty and inventive piece. Soprano Lindsay Kesselman and the Pittsburgh New Music Ensemble under Kevin Noe then lead us through Falling, a dramatic work about the true tale of an Allegheny Airlines stewardess who was sucked out of a plane's emergency exit and fell to her death in October, 1962. Based on a poem by James Dickey, the piece incorporates a recording of the poet's recitation of his text which is then further expanded by the soprano. The composer's use of microtonality – Falling is dedicated to the memory of Dean Drummond, composer and co-artistic director of Newband who championed the microtonal work of Harry Partch among others – adds to the otherworldly and at times eerie homage. This composer portrait disc concludes with the at times raucous – recalling that woodpecker again – Last Round for amplified string quartet (FLUX) and the six members of Mantra Percussion. Another welcome and effective offering from New Focus Recordings.