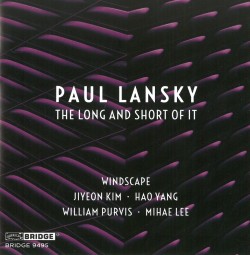 The Long and Short of It
Paul Lansky
BRIDGE 9495 bridgerecords.com
Listen
The Long and Short of it:: IV. The Joy of B-Flat Minor
Talking Guitars
Pieces of Advice: III. Be Patient
Read the Review
The following review is an excerpt from Editor's Corner (November 2018) which can be read in its entirety here.
Beginning in the mid-1960s, Paul Lansky was among the first to experiment with the computer for sound synthesis. Until the mid-1990s, the bulk of Lansky's work was in computer music, for which he was honoured in 2002 with a lifetime achievement award by SEAMUS (the Society for Electroacoustic Music in the United States). The first time I heard his music was thanks to my WholeNote colleague and former CBC radio producer David Jaeger, sometime in 1985 on his program Two New Hours. It was a brilliant piece titled Idle Chatter, in which the composer had used computer synthesis to mimic the sound of the human voice, or actually a room full of human voices, and created the babble of a crowd in which you could swear you heard actual words and syntax. It's available on YouTube and if you've not heard it, it's well worth the search.
Since 2004 Lansky has concentrated on instrumental composition without any electronic involvement, as witnessed by the latest of some two dozen recordings on the Bridge label, The Long and the Short of It (BRIDGE 9495 bridgerecords.com). In the notes Lansky states that the music contained here, although recently composed, relates to his earliest musical experiences at the High School of Music & Art in Manhattan, playing folk guitar (with some classical studies) and later the French horn. He achieved quite a high performance level with the latter and for a time was a member of the Dorian Wind Quintet. It is with a wind quintet that this disc begins, the title work performed by Windscape. It is an extended work inspired by the third-movement Adagio of Mozart's Serenade for Winds K.361, passing through a number of moods and colours, at some moments reminiscent of the busy chatter of the electronic piece I mentioned above. Talking Guitars uses the metaphor of a conversation to characterize a dialogue between the two instrumentalists, although it is much more lyrical than the busy computer chatter I keep mentioning. It is performed by the brilliant young guitarists, Jiyeon Kim and Hao Yang. Pieces of Advice for horn and piano was written for William Purvis and Mihae Lee. The suite consists of "character studies," with the following performance instructions for the five movements: "Be Mysterious," "Be Proud," "Be Patient," "Be Annoying" and "Be Insistent." It quite effectively depicts all these moods and is beautifully realized by its dedicatees. It seems whatever the genre, Lansky's music continues to attract and satisfy.