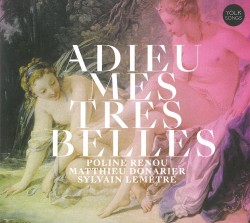 Adieu mes tres belles
Poline Renou; Matthieu Donarier; Sylvain Lemêtre
Yolk Records 3 2076 (yolkrecords.com)
Listen
Adieu mes très belles
Hodie Puer Nascitur
Ce bel oeil
Read the Review
The vocalist Poline Renou and clarinetist Matthieu Donarier have been making ethereally beautiful music for more than a decade. Joined on this excursion Adieu Mes Tres Belles by the percussion colourist Sylvain Lemêtre, their music makes a magical rhythmic turn with Renou's pristine, high-sprung voice being daubed by rhythmic paint, so to speak, while both musicians are embraced by Donarier's near-mystical harmonics as he breathes into his various clarinets.
This repertoire cuts a majestic swathe from early European monodies through the polyphonic music of the late Renaissance to the edge of the Baroque era. Despite this extraordinary range of music cutting through a myriad of modal frameworks, a magical gossamer-like thread sews it all together. This is largely due to the wraith-like presence of Renou, whose chaste, slender voice creates a sense of rapt spirituality throughout the proceedings. Her vocals are bathed in the voluptuous, round sound of Donarier's clarinets, aptly suggesting a warm and resonant music from ninth-century anonymous works to those of Gilles Binchois, Michelangelo Rossi and Vicente Lusitano from the 15th to the 17th centuries.
Lemêtre's drums create contemporary drama around the moments of Renou's vivid word paintings and Donarier's expressive chromaticisms and dissonance, of which Heu Me Domine is a splendid example. Overall the disc is a rapturous unveiling of sacred and secular works – a happy marriage of astute scholarship and daringly rigorous, idiomatic performance.