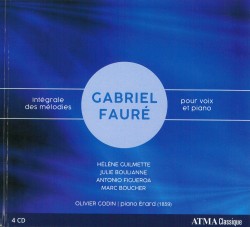 Gabriel Fauré – Intégrale des mélodies pour voix et piano
Hélène Guilmette; Julie Boulianne; Antonio Figueroa; Marc Boucher; Olivier Godin
ATMA ACD2 2741 (atmaclassique.com)
Listen
Au bord de l'eau
Le secret
Madrigal
Read the Review
ATMA's new set of Gabriel Fauré's mélodies offers a fresh approach to one of the most glorious collections of songs by a single composer. These songs are – not surprisingly – frequently recorded. But this complete set is the first to pay particular attention to their historical circumstances. The results are illuminating – and gorgeous.
Each of these 108 songs has been recorded in its original key, by a singer with the voice type Fauré specifically had in mind. To hear the songs with the colour and pitch Fauré intended is, for me, revelatory. The piano is French, an Érard made in 1859, just two years before Fauré wrote his first song. The pitch has been lowered to A435, which was then standard. What's more, the songs are presented in the order Fauré wrote them. This chronological pathway through these songs, following the lead of the still-wonderful landmark Ameling-Souzay-Baldwin set from 44 years ago, remains the most effective way to approach them. More recent collections tend to group the songs by theme, relinquishing an invaluable opportunity to show how Fauré's music evolved throughout his long, groundbreaking career.
The five musicians here – all Canadians, all from Québec – capture Fauré's idiomatic style in truly memorable performances. Mezzo-soprano Julie Boulianne gives such a sumptuously nuanced performance of the early Au bord de l'eau (At the water's edge) that when she sings "to feel love in the face of all that passes away," you experience the lovers' doubts just as forcefully as their longings. In Clair de Lune (Moonlight), the first of Fauré's magnificent settings of Verlaine, tenor Antonio Figueroa finds just the right balance between ardour and serenity to evoke fountains sobbing with ecstasy in the calm moonlight. Pianist Olivier Godin elicits sublime colours from Fauré's unsettling piano part.
Baritone Marc Boucher, artistic director of this mammoth project, suffuses the dreamy melodic lines of En Sourdine (Muted) with profound care for the text and elegant phrasing. His tenderness is utterly moving, even when his voice shows some unsteadiness. It takes a singer as expressive as soprano Hélène Guilmette to penetrate the recitative-like rhythmic patterns and distilled chromatic harmonies of Reflets dans l'eau (Reflections in the water) and reveal the enthralling melodic arc of this late masterpiece.
The informative booklet notes by Jacques Bonnaire are given in French and English. But the texts, unfortunately, appear only in the original French (or English in the case of the rarely heard Mélisande's Song), without translations.