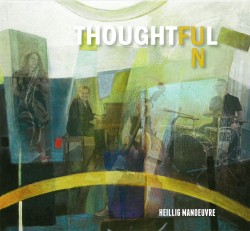 Thoughtful Fun
Heillig Manoeuvre
Independent HM2017 (heilligman.com)
Review
Canada's one-time boy wonder of neo-mainstream, Henry Heillig, has now, unbelievably, spent over 30 years ploughing his fertile furrow across the continent and elsewhere with the Heillig Manoeuvre, among other well-known ensembles. With Thoughtful Fun, the Manoeuvre's sixth album, the bassist continues to entertain and dazzle in his virtuoso playing together with the extraordinary musicianship of other members of this ensemble.
Every piece here is played by Heillig with a languid ease, each rhythmic variation following the other, quietly inexorabe, his sumptuous bass sound brilliantly caught in this recording. There is an unhurried quality to his approach, a lived-in character to his phrase-making that is very engaging; and while it might lack the fire and brimstone of youth, it is more than compensated for by the well-honed values of experience.
Stacie McGregor on piano and organ, Charlie Cooley on drums and Alison Young on saxophones also bring their own exceptional musicianship to the eight songs on this disc. Their own playing puts a special spotlight on these beautifully crafted arrangements of beguiling variety and sensuousness, each informed by lovingly caressed phrases at every turn.
Vocalist Alex Tait not only sings on Extreme Strolling and El Niño, but has also written poetic lyrics for the latter song. She too is completely attuned to the vision of the Heillig Manoeuvre. Hers is a voice whose mellifluous timbre beguiles and swings in the spacious arrangements of both songs.