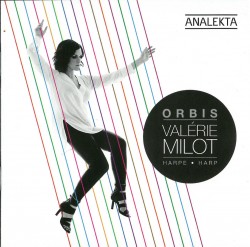 Orbis
Valérie Milot
Analekta AN 2 9880
Review
The following is an excerpt from Editor's Corner (March 2016) which can be read in its entirety here.
Quebec harp virtuoso Valérie Milot's latest CD Orbis (Analekta AN 2 9880) is an eclectic release of 20th century fare. Minimalist offerings by Marjan Mozetich and Steve Reich are featured along with works of John Cage and Antoine Bareil plus Bareil's arrangements of music by Gentle Giant and Frank Zappa. Mozetich's El Dorado for harp and strings opens the disc in a dramatic performance with Les Violons du Roy under Mathieu Lussier's direction. The quiet, almost ominous, opening gradually builds like an ancient steam locomotive coming into town – you can almost see the smoke chuffing into the sky on the horizon – but over the 15 minutes of the work the textures gradually lighten and change into what Mozetich describes as a dreamscape. Commissioned by New Music Concerts for Erica Goodman back in 1981, El Dorado has become something of a modern classic and this is the third recording that I'm aware of. Goodman's performance with the Amadeus Ensemble and Caroline Léonardelli's with the Penderecki String Quartet are available from the Canadian Music Centre (musiccentre.ca).
The locomotive relentlessness of the opening of the Mozetich is mirrored in a gentler way in Steve Reich's Electric Counterpoint. Originally written for jazz guitarist Pat Metheny, the work is scored for solo guitar, 12 guitars and two bass guitars. As in many works by Reich it can be played by an ensemble or by a single musician overdubbing the multiple parts. In her arrangement for harps, it is this latter approach taken by Milot, giving her an opportunity to showcase "the distinctive colours of the harp's different registers and its exceptional resonance." The result is very effective and the hypnotic rhythms are tantalizing in this performance.
John Cage's In a Landscape is hypnotic in a different way, with dreamlike arpeggiated melodies spiralling gently and only occasionally punctuated by belling chords in the bass. Composed in 1948 for the choreography of Louise Lippold it was conceived for performance on either piano or harp. Milot's depiction of the meditative landscape is exquisite.
Composer/violinist Antoine Bareil's Castille 1382 continues the mood with a meditation on Jacob de Senleches' fourteenth-century virelai La harpe de mélodie. Bareil's title recalls the year of the death of Eleanor of Aragon, Queen of Castile. It is in two sections, an extended harp solo in which the medieval melody is presented unadorned and then in a harmonized rendition; and in the final minutes the haunting soprano voice of Marianne Lambert joins the harp in canon. It's otherworldly.
At this point the disc takes a hard left turn and we are immersed in the world of pop music. But the transition is seamless as the solo harp introduction of Bareil's arrangement of the Gentle Giant song As Old as You're Young is in a lilting folk idiom. Harp is soon joined by an edgier violin statement of the melody (played by Bareil) and as the piece develops it gets harder and harder with the addition of marimba and raunchy bowed double bass. This sets us up for the culminating storm, Frank Zappa's iconic G-Spot Tornado. Zappa initially conceived it as an electronic piece for his album Jazz from Hell because he felt that live musicians could simply not perform its complexities at the desired tempo. He was later proved wrong and there is YouTube video of an athletically choreographed performance with modern dancers and the Ensemble Modern conducted by Zappa in 1992. Since that time G-Spot Tornado has received myriad live performances and here it is vigorously and very effectively played by Milot and Bareil with Jocelyne Roy, flute, François Vallières, viola, and Raphaël Dubé, cello, providing a tornadic finale to a very fine disc.
Concert Note: Valérie Milo and Antoine Bareil can be heard in recital on March 18 at Convocation Hall, McMaster University in Hamilton. On March 19 at 5pm they will give a free performance at the Consulate of the Republic of Poland, 2603 Lake Shore Blvd W. here in Toronto (limited seating, first come first served). Soundstreams will present a performance of Electric Counterpoint and other works by Steve Reich on March 19 at the Theatre Centre, 1115 Queen St. W.