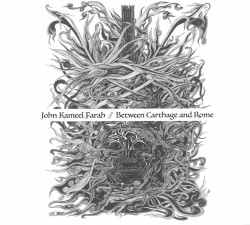 Between Carthage and Rome
John Kameel Farah
BRM BRM6328 (johnfarah.com)
Review
Canadian composer, pianist and visual artist John Kameel Farah, currently based in both Toronto and Berlin, calls this album a "book of fugues, fantasies for piano and electronics, and synthesizer landscapes." It is all that, and then some. Unfortunately, I have space to touch on only a few aspects of this important culture-bridging work.
Showcasing his adventurous, sophisticated stylistic mash-up of 17th-, 19th- and 20th-century European and Middle Eastern musical timbres, and melodic, textural and performance sensibilities, Farah's album seamlessly mixes his acoustic grand piano performances with sounds from electronic sources and sound field treatments. It is all presented in his signature hybrid manner, imbued at times with the ethos of ambient minimalism.
There is another salient element: Farah's unique composer voice. Particularly convincing is his sure-handed shaping of overall form, adventurous harmonic movement, counterpoint, rhythmic vitality and sheer melodic inventiveness. The latter comes to the fore in the monody-centred works evoking a Middle Eastern modal landscape, as in parts of Sama'i Point and Between Carthage and Rome. A transcultural historically informed narrative, suggested by the title, is manifest in the vigourous interaction between the European and Middle Eastern musical vocabularies employed here. It argues for the exploration of, as the composer put it, "ties and intertwining developments of many civilizations on both sides of the Mediterranean."
Throughout, Farah's sensitive, brilliant touch on the piano keyboard, as well as his plucking and muting its strings with fingertips, is a luxurious listening pleasure.