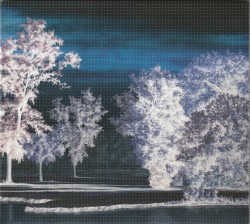 Ingrid Laubrock – The Last Quiet Place
Ingrid Laubrock; Mazz Swift; Tomeka Reid; Brandon Seabrook; Michael Formanek; Tom Rainey
Pyroclastic Records PR 24 (store.pyroclasticrecords.com)
Space is the proverbial place on this new Ingrid Laubrock album; its fullness lies in its many pauses. Laubrock herself is in charge of the most overt sonic elements, such as shouldering the entire production and compositional loads, along with her reed work resonating strongly throughout the holistic auditory experience. She leads a six-piece band that consists of two-thirds stringed instruments, which allows for a unique textural and dynamic palette. The group makes the most of this range, and are selective in how they layer musical elements, which leads to an unpredictable aspect that complements the complexity of Laubrock's melodic phrasings.
The composition Afterglow wouldn't have the same arresting air of mystery about it if the entire ensemble was ever playing at once; the decision to centre the piece around a string trio of Tomeka Reid, Mazz Swift and Michael Formanek lends it its structural intrigue. In this sense the music is never afraid to interrupt itself, because rather than the more traditional slow build from the swelling bowed passages, the guitar, saxophone and drums take turns interjecting. This creates an effect of dialogue or commentary, and this interactivity between interlocutors paints a setting of controlled disarray. Contrast can be equally engaging as uniformity, and it's the ability to seamlessly phase between these two states that makes this such a refreshing group.