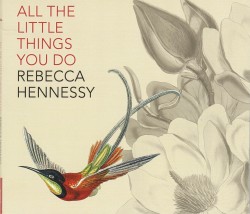 All the Little Things You Do
Rebecca Hennessy
Independent RH003 (rebeccahennessy.com)
Toronto-based trumpet player, singer and songwriter, Rebecca Hennessy, has released her second full-length album and it's an interesting and eclectic mix of styles. Although Hennessy generally gets categorized as a jazz musician, All the Little Things You Do has shades of art song, country blues, New Orleans horn band and jazz-rock, all playing together nicely. A mandolin orchestra even makes an appearance on a couple of tracks.
All of the songs were either written by Hennessy or co-written by her with bandmates Michael Herring and Dave Clark (and others). Although her background is as a trumpet player, voice is her main instrument on this album and she has an endearingly unembellished singing style that suits the straightforward lyrics of the majority of the songs.
Hennessy has gathered a renowned and eclectic mix of players for the album, including pianist Tania Gill, bassist Herring and drummer Clark. Guitarist Kevin Breit (who has played with Norah Jones and Cassandra Wilson) has a strong presence throughout the album with the inventive soundscapes he creates. And when he's unleashed on a solo, it can be quite a wild ride. Other notable guests include Alex Samaras – a phenomenal singer who I keep seeing pop up on other people's albums – and violinist and strings-arranger Drew Jureka, whose work on Eclipse is especially compelling. On the whole, All the Little Things You Do is an artful and thoughtful musical journey.