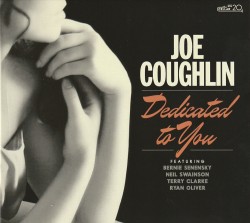 Dedicated to You
Joe Coughlin; Bernie Senensky; Neil Swainson; Terry Clarke; Ryan Oliver
Cellar Music CM120121 (cellarlive.com)
Before you even play this recording – Dedicated to You by Joe Coughlin – you will find that the repertoire is wonderfully chosen, and just the right length so as not to be "too much of a good thing." When you do play the recording you will discover the best thing about it: the voice of Joe Coughlin, sounding like the rustle of raw silk.
Coughlin's admiration for Johnny Hartman – who created benchmark interpretations of these charts – is sometimes palpable. But these charts also speak in a very personal way of Coughlin. Surprises come by way of his applying raspy glissandos to words in a phrase here and there, and poignant dallying with the word "love" in a beautifully sculpted line. Listen, with the heart, to On Green Dolphin Street, It Could Happen to You and My One and Only Love.
When lyrics speak to a vocalist in the secret of the heart the song that emerges can come with an evanescent magic. Coughlin pulls off quite a few of these moments on this album. The first is Lush Life, Billy Strayhorn's most intimate presciently autobiographical composition. Coughlin makes every utterance a poetic one, shaping the character of the song with so much pathos that it is almost too painfully beautiful. And then there's My Ship and Nature Boy...
All of this music is made immeasurably better by Coughlin's accompanists, pianist Bernie Senensky, bassist Neil Swainson, drummer Terry Clarke and saxophonist Ryan Oliver.