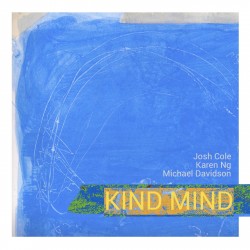 Kind Mind
Josh Cole
Independent (kindmind.bandcamp.com/album/kind-mind)
Kind Mind is Josh Cole (bass), Karen Ng (alto saxophone) and Michael Davidson (vibraphone). Recorded live on January 4, 2020 at the Open Waters Festival in Halifax, the music wastes no time getting straight to the point. The opening track, Inside Voices, begins when you press play. There is no prolonged silence and no gradual introduction of each musical element. There is Cole alone for exactly a second, and then the ensemble takes off.
One thing that stood out for me is how effectively space and subtlety are used throughout the duration of this project. Despite being a trio, there are long stretches where only one or two instruments can be heard simultaneously. Phrases often seem deliberately tentative, and exclamations sometimes evaporate into question marks. Part of this phenomenon comes from impeccable listening on the part of all three players. The sparsity seems even more intentional when you hear the end of each idea, as the musicians step aside, allowing the person behind them to take centre stage. Karen Ng, especially, proves to be a master of restraint, really only contributing texturally at many points, and her astonishing timing is really the adhesive that makes this recording so seamless. The group's use of space allows for their improvisations to possess distinctive shape and structure, so that when Kind Mind goes full throttle the element of surprise is on their side.