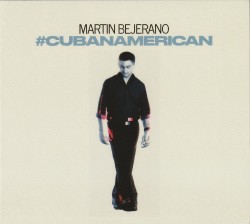 #Cuban American
Martin Berjerano
Figgland Records FR-003 (martinbejerano.com)
Cuban American is how I would describe many aspects of Miami, and South Florida in general. A true melting pot deeply influenced by Cuban culture, due to Florida's proximity to the island and the waves of immigration that have occurred from the 1980s onwards. Pianist Martin Bejerano has been a staple on the Miami music scene for decades now – born and raised in the Magic City – possessing an impressive résumé from a career that has taken him across the US and abroad.
Bejerano's fourth album #CubanAmerican is an eclectic yet unified collection of compositions and sounds. I was shocked to read that the veteran musician "insists he is not a great Latin piano player." But this statement may come from a combo of modesty and a desire for authenticity. Jazz and improvised music tend to be broad umbrella terms, and much of the "Latin jazz" one hears on the radio would sound foreign to someone who inhabits the lands this music borrows rhythmic content from. After listening to #CubanAmerican, it seems Bejerano has chosen a very wise path by collecting ample influences and creating something original. The results are exciting!
The group performs Cuban rhythmic material at a level that is surgically accurate, without losing their sense of heart or vulnerability. Improvised solos are all on par with the cutting edge of modern jazz music, and the album is recorded beautifully at North Miami's Criteria Studios. #CubanAmerican offers something for everyone, whether your tastes are rooted in traditional jazz, fusion or Latin-based music.