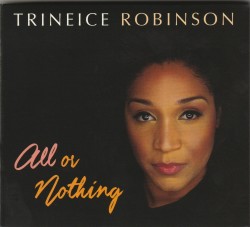 All or Nothing
Trineice Robinson
4RM 4RM-20210806 (trineicerobinson.com)

Trineice Robinson has established herself as an esteemed educator and author. Now with the release of her long-awaited debut she's finally getting the chance to establish herself as a vocalist, telling her story and journey through music. One of Robinson's missions as an educator has been to bring back to the forefront Black music traditions that have fallen to the background within the vocal music realm and this album does a fantastic job at not only showcasing Black jazz, soul and R&B artists who have been instrumental in advancing those genres but also shining a spotlight on current famed musicians, with a renowned lineup of all Black artists in her backing band.
Robinson's soulful and powerful vocals take us on a journey through multi-genre staples such as Footprints by Wayne Shorter, What's Going On by Marvin Gaye and You Know Who (I Mean You) by Thelonious Monk, while adding a unique flavour to each piece, making them her own. Interspersed within these tributes are original compositions, of note being the gospel-inspired piece Let It Shine, in which her own daughters lend their voices, creating a humble and heartwarming whole. Robinson skilfully crosses genres throughout the album, creating a delicious jambalaya reflecting what she states about finding her own place within the musical realm, "when you understand how ingredients are used in a dish, you can create whatever dish you want." All in all, a strong and promising debut album.