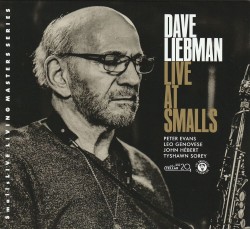 Dave Liebman
Live at Smalls
Cellar Music CMSLF004 (cellarlive.com)
Dave Liebman, éminence grise of the saxophone, holds court on Live at Smalls, a dizzying freely improvised (sometimes modal excursion) quintet recording on which he leads a group of younger acolytes – including pianist Leo Genovese, bassist John Hébert, drummer Tyshawn Sorey and trumpeter Peter Evans. And while each performer is his own man, so to speak, they are all musically speaking doppelgangers of Liebman. Evans is always closest, shadowing the soprano- and tenor-playing saxophonist down twisting paths and labyrinthine harmonic alleys as the pianist, bassist and drummer clear rhythmic paths for the two horn men.
Liebman himself plays wonderfully well, his vibrato characteristically vocal in its speed and intensity. The veteran saxophonist inspires fiery virtuosity from his younger journeymen. Each musician gives of himself with enormous generosity, making Live at Smalls an epic musical voyage.
By the second movement of this piston-driven set the musicians are firing on all cylinders. Liebman, long since having unbolted the proverbial guardrails, keeps the door open for the rest of the musicians to jump into the fray. The result is a free-flowing palimpsest, super-charged in almost every musical respect: texture, tempo relations and phrasing throughout the vortex-like three-part suite.
Furious fluid dynamics occur, one breathless variation to the next. The energy is unrelenting. An occasional low, crackling musical flame occurs when the overall volume drops to barely above a whisper before Liebman's stuttering soprano in the final movement foreshadows the ensemble's incandescent sprint to the finish.