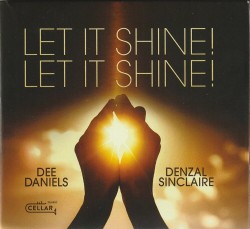 Let It Shine! Let It Shine!
Dee Daniels; Denzal Sinclaire
Cellar Music CM111621 (cellarlive.com)
Singers Denzal Sinclaire and Dee Daniels take us to church with their new offering, Let It Shine! Let It Shine! Produced by the renowned jazz bass player, John Clayton, and recorded over several days while the band and crew were living together in a house outside Calgary, the love that went into this project is palpable. With gospel being the predominant style, the Hammond B3 by organ master Bobby Floyd is a centrepiece of the album, but all the players have their moments, such as Herlin Riley's tambourine flair on some of the spirituals and Nick Tateishi's groovy guitar work on God, Be in My Head.
Sinclaire's signature warmth and gently swinging style is a nice contrast to Daniels' powerful vocals, yet they blend beautifully on their duets. I confess I wasn't very familiar with Daniels' work before listening to this album and what a force she is. Her intensity is perfect on the blues-tinged If He Changed My Name while her emotional range is showcased on Sometimes It Snows in April. Sinclaire does a wonderful lilting reimagining of Row, Row, Row Your Boat and a simply gorgeous take of Blessings Upon Blessings. But where the group really seems to hit its groove is on the traditional spirituals like This Little Light of Mine and Every Time I Feel the Spirit. When they let loose and the choir kicks in, I defy even the staunchest non-believers to sit still and not sing along.