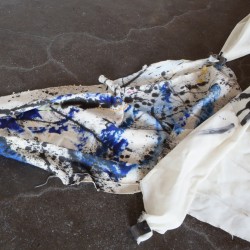 Monicker
Libr'aerie
Bug Incision bim-79 (bugincision.com)
Few international improvising ensembles get to persist after their initial meetings, but Monicker – the trio of guitarist Arthur Bull and trombonist Scott Thomson, both Canadians, and the English drummer Roger Turner – is currently enjoying a second life, with a recent Australian tour and upcoming dates in France and England. Libr'aerie documents a 2018 performance from Quebec City's Librairie Saint-Jean-Baptiste.
There's no easy way to describe the group's music: any substantial segment might include the dauntingly abstract, the drolly witty and the broadly, almost physically, comic, and each dimension, among others, might be caught in the same passage. This recording is more minimalist than their previous release (Spine on Ambiances Magnétiques), with Turner reducing his kit to snare drum, cymbal and "small junk percussion," the latter the source of the high-pitched, near-random, metallic chatter that sometimes animates this music.
There's a broad movement here from the abstract to the celebratory. Turner's special momentum has roots in early jazz and similar tastes have shaped the work of his younger partners. Thomson can reflect a century of jazz trombone, from a New Orleans moan to elegant legato, but there are special moments when he combines unlikely elements, matching bebop velocity to vocalic smears. Bull often extends early blues idioms, and a rapid passage of string-bends can sound like his guitar has an elastic neck strung with elastic bands. Somehow the effect blurs into the identity of Thomson's trombone, the result an uncanny timbral convergence.