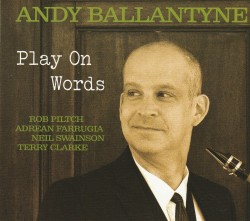 Andy Ballantyne: Play on Words
Andy Ballantyne; Rob Piltch; Adrean Farrugia; Neil Swainson; Terry Clarke
GB Records GBCD190307 (gbrecords.ca)
Toronto-native, saxophonist Andy Ballantyne has decided to pay tribute to some of his greatest influences on this new release. Ballantyne describes the thought behind this record as being a showcase of how it's possible to make something your own and add your personal touch and flare to it, even within the bounds of certain stylistic constraints you often have as a freelance musician. It's very much about showing how a musician can add their own unique perspective within a piece of music. Ballantyne composed all of the pieces except Till the Clouds Roll By, written by Jerome Kern, a famed musical theatre and popular music composer from the early 1900s.
All of the songs stand out in their own right and, if the listener knows about the greats Ballantyne is paying tribute to, it is easy to hear their influence. Some pieces that really come forth are Gordian Knot, a catchy and rhythmically pleasing opening track dedicated to Dexter Gordon, Round Shot, a song that is positively groovy and is a shout out to the great Cannonball Adderley and Mr. P.L., a quite cleverly named tune to honour one of our amazing local saxophonists (maybe the reader will be able to figure out who.) Featuring Adrean Farrugia on piano, Rob Piltch on guitar, Neil Swainson on bass and Terry Clarke on drums, this record is nothing short of excellent.