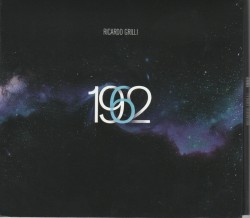 1962
Ricardo Grilli
Tone Rogue Records (toneroguerecords.com/#/1962)
An example of bona fide musical time travel, Brazilian native Ricardo Grilli has released a truly haunting and meaning-laden set of tracks that lead us into another period in both musical and personal history that has shaped who the guitarist is now. The follow-up to a similarly themed album, 1954, this record is a reflection of Grilli's thoughts on a meaningful era which he expresses through "[focusing] on the idea of evolution and change that characterized the 1960s" and embedding it into his music. Helping to realize his musical vision, the guitarist called together a quintet of famed musicians like saxophone great Mark Turner, pianist Kevin Hays and bassist Joe Martin.
Taking cues from the title, 1954-1962 is an ethereal and meandering piece that connects the previous record to this one, a true bridge through time with Grilli leading us on a spacious journey with his melancholic guitar melody. In Coyote, a simmering and sultry samba-flavoured song, we hear the Brazilian hark back to the history and culture of his homeland, a possible reflection of the tumultuous state his country was in at the time and a longing for something familiar. Voyager, a fittingly titled piece to close out the album, carries a note of hope and exploration within, the rollicking piano tune and driving drum groove letting us know that although our musical journey has come to a close, the future is always a continuous voyage.