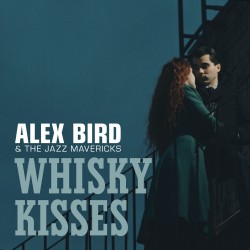 Whisky Kisses
Alex Bird & the Jazz Mavericks
Independent (alexbird.net)
It's not often that an individual can hit it big in both the acting and music worlds, but locally based vocalist Alex Bird clearly demonstrates his stellar talents and ability to transition smoothly into the realm of jazz with the release of his debut album. Bird will captivate any listener with his sultry and mellow voice that has just that touch of smokiness which both manages to serve as a hark back to the era of golden jazz crooners like Sinatra and Bennett but also brings us into the present with a freshness that breathes new life into the traditional aspects of the genre. The vocalist has had a hand in composing each piece and the disc features the fabulous Jazz Mavericks, a group of emerging musicians, namely Ewen Farncombe on keys, Eric West on drums and Scott Hunter on bass.
The record opens up with the edgy Fire Not Warmth, a toe-tapping piece that sets the mood for the time-travelling journey to the period of greats that the listener is embarking on. The influence of jazz bigwigs such as Bennett, Baker and Fitzgerald on the golden-throated vocalist is apparent; Bird adds a distinct charm to his stylings while bringing that timeless classiness along into his new take on the past. Title track Whisky Kisses is a beautiful ballad that closes the album on a melancholic yet positive note, a sign that there's much more to come from this astounding new talent.