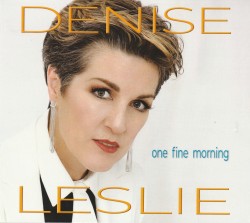 One Fine Morning
Denise Leslie
Independent (deniselesliesings.com)
With the release of her new recording, delightful contemporary jazz vocalist, Denise Leslie, has created a sumptuous journey through some of the most potent and skillfully composed jazz/rock/pop hits of the 1970s. Leslie has also included two of her own well-crafted tunes in the collection. Her fine crew includes gifted producer/arranger/guitarist Bob McAlpine; first call jazz bassist/arranger Pat Collins; the iconic Paul DeLong on drums; the Lighthouse Horns (Simon Wallis on tenor sax; Chris Howells and Bruce Cassidy on trumpet, Russ Little on trombone); Arturo Avalos on percussion; Don Baird on Hammond B3; and the Brass Transit Horns (Phil Poppa on tenor and baritone sax, Doug Gibson on trombone and Tony Carlucci on trumpet).
Things kick off with a funky cool reimagining of the Badfinger hit, Day After Day. Insistent, potent bass lines by Collins and thrilling drumming by DeLong are ensconced in a delicious vocal arrangement. Leslie is right in the pocket, bringing to mind (but not derivative of) another soulful gal, legendary British diva Cilla Black. Other highlights include Sting's Driven to Tears, presented here as a bluesy, sexy, evocative lament that resonates easily with our contemporary chaos. Collins plumbs the lower depths here, while McAlpine lashes out with a spine-tingling guitar solo.
An absolute standout is Little River Band's tender reverie, Reminiscing, presented here with a stunning, succinct vocal arrangement; truly a compelling version of one of the loveliest contemporary pop ballads ever written. The tasty closer is a charming take on the Jimmy McHugh/Dorothy Fields' standard I'm in the Mood for Love, which cleverly segues into Eddie Jefferson and James Moody's Moody's Mood.