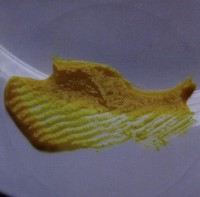 Additional Notes
Martin Küchen; Keith Rowe; Seymour Wright
Another Timbre at29 (www.anothertimbre.com)
About the furthest sonic distance that can be imagined from a standard guitar and two saxophones CD, this noteworthy session is mostly concerned with the matchless musical magnificence that can result from the juxtaposition of unique and unexpected timbres.
British guitarist Keith Rowe, who appears at the Music Gallery on November 30 in the company of two different, string-playing sound explorers, has for years been investigating the possibilities of the electric table-top guitar prepared with add-ons and gizmos. What he does here with dual alto saxophonists Martin Küchen and Seymour Wright is subvert the expected sound of his instrument – and theirs. Radiating outwards an inchoate collection of broken chords, ratcheting strings and grinding friction, he alternately supplements or showcases the saxophonists' tongue-stopped squeaks and shrills. Snatches of static-laden music or verbal phrases he serendipitously locates on an affiliated short-wave radio help convert this one improvisation into a constantly surprising, layered narrative, replete with concentrated drones and pulsed timbral flutters.
A climax of sorts occurs after three-quarters of the journey, when a sudden burst of sampled pop-rock guitar excess is swiftly burlesqued by Rowe's string scraping and intermittent, reverberating distortions. This is followed by watery multiphonic runs from one reed player and a steady, unaccented line from the other. Ring modulator-like clangs eventually prod tightened saxophone breaths to expand into mouthpiece oscillations and a final, cumulative dissolving drone. Despite the title, there is no need for additional musical notes.