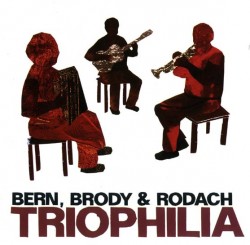 Triophilia
Bern, Brody & Rodach
Jazz Werkstatt JW 071 (www.recoprds-cd.com)
Putting your stamp on traditional material is one goal for musicians; composing tunes that fit with it is another. This trio excels in both.
Consisting of accordionist/pianist Alan Bern and trumpeter Paul Brody, respectively the musical director and one soloist of The Other Europeans – a Klezmer/Lautari band performing at the Ashkenaz festival September 4 – plus guitarist Michael Rodach, the three not only play Yiddish and Roma music, but create it. "Triophilia" is notable since the smaller group allows the three to celebrate more musical currents.
Take Rodach's Tango Valeska. Positioning the Argentinean theme song within Eastern Europe, the three emphasize its Old Country roots by the means of expansive polyphonic slurs from the trumpeter, quivering accordion licks and the expected clinking guitar rhythms. It the same story with Bern's Angel Blue and Brody's Heschel. On the latter, sharp, downwards guitar strums that could have emigrated from Bessarabia come up against moderato, formalist trumpet cadenzas, creating a melody that is both melancholy and charming. On the former the rhythm is more sway than swing, but Bern's expanded glissandi still contrapuntally play off against Brody's grace note sluices and blues lick suggestions from Rodach.
Brody's Bartoki, saluting the Hungarian composer whose study of his country's musical history affected his compositions, is the crowning achievement. Putting a modernist cast on Magyar-Roma roots, jazzy, rhythmic guitar frails and harsh syncopated piano runs are added to Brody's mellow theme. Emerging repeatedly from the mix of strained string fills and slinky keyboard rebounds, the narrative attains its climax with high-pitched trumpet tones.