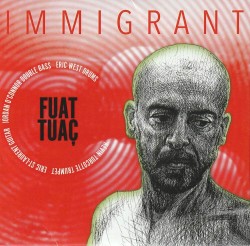 Immigrant
Fuat Tuaç; Kevin Turcotte; Eric St-Laurent; Jordon O'Connor; Eric West
Independent (fuattuac.bandcamp.com/album/immigrant)
Accomplished, multi-lingual vocalist and composer, Fuat Tuaç, has just released his new CD, and it does not disappoint. Tuaç wears several hats here, as composer, arranger, producer and artist. He has also surrounded himself with his talented long-time collaborators, guitarist Eric St-Laurent, bassist Jordan O'Connor, drummer Eric West and trumpeter Kevin Turcotte. As the title would suggest, Tuaç explores his Canadian immigrant experience here, as well as the contemporary social ethos in the depersonalized era of technology. Included in this well-crafted project are two vocal duets: the sexy cool Chez Moi, sung en française with the exquisite Montreal-based chanteuse, Kim Richardson and Uzun Ince Bir Yoldayim, rendered in exotic, evocative Turkish (Tuaç's native tongue) and performed to perfection with noted Turkish vocalist, Yesim Akin. Both duets illustrate Tuaç's taste and musical skill and are highlights of the recording.
The compelling opener, No Strings Attached (a Tuaç original), is a groovy, jazzy ode to the often confusing nature of romantic relationships in these troubled times and Asla Unutamam is a delicious Turko-bossa, featuring a stunner of a trumpet solo from Turcotte. Tuaç soars as a vocalist here – defining his style, sound and approach. The very personal title track is a hopeful, and yet melancholy portrait of the courageous individuals who have eschewed or fled their homeland in order to manifest a life of creative and personal freedom – and the challenges, confusion and joy that is part of that journey. Tuaç imbues the track with his deep emotional experience, as well as a superb vocal. Moss Park… is another standout, a disturbing exploration of our own very Canadian, urban inhumanity.