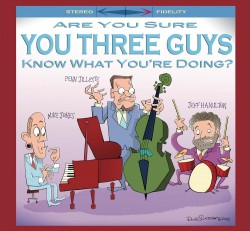 Are You Sure You Three Guys Know What You're Doing?
Mike Jones; Penn Jillette; Jeff Hamilton
Capri Records (caprirecords.com)
This enjoyable recording features the prodigious talents of pianist/arranger/producer Mike Jones, the potent and thrilling drum work of Jeff Hamilton, and solid, musical bass playing from internationally known magician, Penn Jillette (of Penn and Teller). The tongue-in-cheek title of the CD is a reference to when The Three Stooges would show up as house painters, carpenters or God forbid, doctors! It was in 2002 that Jones was hired to be the opening act of Penn and Teller's irreverent and entertaining magic show – a hot ticket in Las Vegas for more than 30 years – the only proviso being that Jillette (who had taken up the bass at the age of 48) would join Jones in a duo format for the opening set – which turned out to be six nights a week, for 21 years. After stopping by to see a show, it was actually Hamilton's idea that the three record together.
Fresh, energetic takes on a number of beloved jazz standards are included here. On the zesty opener, Gershwin's 'S Wonderful, Jillette more than holds his own – digging in with authority while generating a big, fat, satisfying sound. Jones masterfully lays it down in the stylistic mode of the greats and Hamilton is simply one of the finest jazz drummers of his (and any other) time. A standout is a swinging take on the great Sonny Rollins' Doxy. The trio grooves like a single-celled animal, and Jones' solo is a thing of rare beauty. Other fine tracks include Jobim's classic The Girl From Ipanema, which features an extended bass solo from Jillette where he carries the melodic line, and is also consistently expressive, in tune and in time. The stunning ballad, You've Changed, displays the trio's skilled use of space as well as a formidable lyrical sensibility.
These guys know what they're doing; they should do it more often!