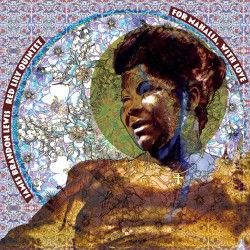 For Mahalia, with Love
James Brandon Lewis; Red Lily Quintet
Tao Forms 13 (taoforms.bandcamp.com)
Tenor saxophonist James Brandon Lewis's previous CD with his Red Lily Quintet, Jesup Wagon, dedicated to George Washinton Carver, resided at or near the top of 2022 jazz polls. This homage to gospel singer Mahalia Jackson, to whose work Lewis was introduced in childhood by his grandmother, is even stronger – at once impassioned, reverent and nuance-alert throughout its 71-minute-playing time. The homage may extend to saxophonist Albert Ayler's similar recording from 1964, Swing Low, Sweet Spiritual, with Lewis frequently referencing Ayler's distinctive tone and phrasing.
Lewis is intensely expressive here, in part through his taut control, holding his lines in check until they explode. Trumpeter Kirk Knuffke is a brilliant foil, on theme statements, solos and counter melodies, while cellist Chris Hoffman, bassist William Parker and drummer Chad Taylor supply stellar support, from a certain formal but empathetic rigour to the haunting bowed strings that introduce Calvary. The quintet's special closeness comes through in extended theme statements that are simultaneously loose, collective improvisations, melodic components passed among the instrumental voices, for example, Were You There and Precious Lord.
The limited first edition CD comes with an additional CD, These Are Soulful Days, Lewis' eight-part composition for his tenor saxophone and string quartet, performed with the Lutosławski Quartet
of Poland. It's a lucid work imbued with the spirit of gospel music (Wade in the Water emerges at one point). Its spacious melodic clarity suggests the compositions of another American master, Virgil Thomson.