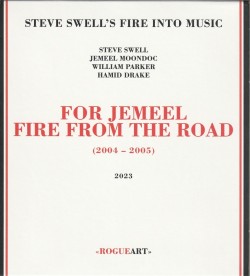 For Jemeel – Fire from the Road
Steve Swell's Fire Into Music
RogueArt ROG0126 (roguart.com)
Emerging in the 1970s, Chicago-born alto saxophonist Jemeel Moondoc was a firebrand of free jazz, his work characterized by original phrasing, emotional immediacy and unwavering commitment to musical liberation. In 2004 the younger trombonist Steve Swell put together a New York dream band with Moondoc, bassist William Parker and drummer Hamid Drake (the latter two a definitive rhythm section for rugged extended improvisation) for a tour ranging from the U.S. Midwest to the West Coast and then through Canada. Moondoc died in 2020, after a lifetime plagued by sickle-cell anaemia, just as the group planned a reunion recording; in lieu of that, Swell assembled this three-CD, three-hour set from 2004-5 concerts.
Moondoc's command is apparent on Space Cowboys, his style deeply rooted in essential bop and blues sources, but they are pressed into his own distinctive lines. Swell combines all the bends, smears and raw and celebratory bleats of generations of jazz trombonists. Junka Nu, from the 2005 Guelph Jazz Festival, moves with an Afro-Caribbean lilt, combining twisting, expressive lines with a dancing rhythm, creating a compound space that marks the special possibilities of free jazz. It's a quality maintained here by Parker and Drake, whose compound rhythms are at once determined and celebratory.
It's rare to find documentation of this scale appearing for a band that wasn't famous, but this is rare work with a consistent, incendiary power, a tribute to the band as well as to Moondoc.